So, you need braces. Don't sweat it; you're not alone. Plenty of people are in the same boat. Your first step will be to find a provider that you trust to give you the beautiful smile that you are looking for.
By choosing to trust Caroline Albea Orthodontics, you'll have the choice of braces that go practically unseen. Gone are the days of strictly using metal; instead, ceramic braces are now a popular option.
3M Clarity ADVANCED Ceramic Braces are made from a translucent material that blends with the color of your teeth, rendering them virtually unnoticeable. The brackets are made of ceramic, porcelain, or sometimes plastic material, and they are similar to braces in that they are held together and moved via a wire. This wire, however, does not have to be metal; it, too, can be tooth colored, which makes your braces almost entirely invisible.
Though metal braces are still a viable option, ceramic braces are typically more expensive than metal braces, and so families find it more feasible to go with the traditional approach. Fortunately for patients at Caroline Albea Orthodontics, this is not the case. Our ceramic and metal braces come with no price difference, giving you the freedom to smile confidently with a quality product from the time you get your braces put on to the time they are taken off.
For more information on our 3M Clarity ADVANCED Ceramic Braces, please call Caroline Albea Orthodontics.
If you or someone you know are dealing with the embarrassment that sometimes comes with crooked teeth or the discomfort from a bad bite, then you may be a candidate for Invisalign.
Invisalign is now a viable option for children and adults of all ages who are looking to perfect their smiles. Instead of brackets and wires, Invisalign trays are clear and removable, like retainers, while simultaneously acting the same way braces do. Here's how it works:
A digital 3D scan of your mouth is taken so that the aligners can be formed accordingly. (No mushy impressions now!) The Invisalign (ClinCheck) software provides us with a roadmap for your specific treatment plan. The scans are so accurate that the computer can show you a virtual model of what your smile can potentially look like before your trays are even made!
Caroline will then look over the models and create a customized treatment plan. The trays are then fabricated and, you're ready to get started.
Aside from when you're eating, brushing, or flossing, your trays are worn 22 hours per day. Trays will be provided as we monitor your progress. Your office visits are brief and less frequent than traditional braces.
Invisalign aligners are made from SmartTrack material, as opposed to off-the-shelf plastic. This provides users with a better fit, and therefore more comfort. SmartTrack also allows the aligners to be inserted and taken out with more ease than ever before, in part because they are trimmed based on each users gum line.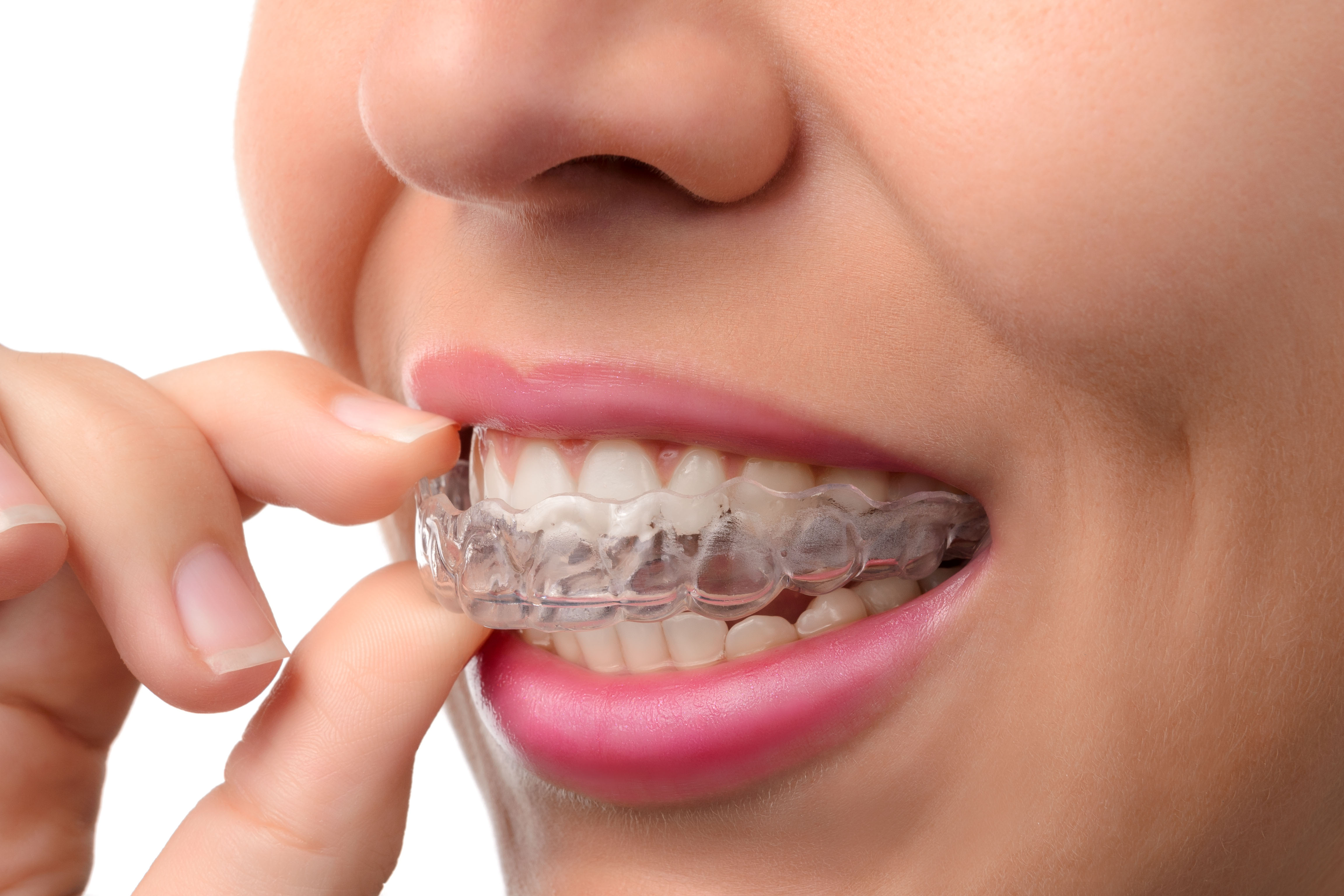 If you have crowding in your bottom, front teeth, but fear clear braces or aligners will be too revealing, you might want to consider lingual braces.
Lingual braces are unique for three distinct reasons:
While ceramic braces and Invisalign are clear and therefore practically unnoticeable, lingual braces are placed on the backs of the teeth, rendering them nearly impossible to see.
Rarely do you find an orthodontist that offers lingual braces as it is a newer technology and the application is more technique sensitive. Dr. Caroline Albea has been trained and is competent in this technique.
Because they fit to the back of your teeth, lingual braces may be easier for those who play sports or certain instruments to adapt to.
Lingual braces are not necessarily right for everyone, especially if you have a bad bite on top of crowding. However, if you qualify, lingual braces are a great way to straighten your teeth without ever having to let anyone know you're actually wearing braces. This is yet another reason why lingual braces are an especially popular choice for adults.
With technological advancements in dentistry and orthodontics, more adults than ever are seeking orthodontic treatment. One out of every five orthodontic patients is an adult. Some adults have never gone through braces before, and are looking for a fully comprehensive approach, while others are needing something limited to correct some crowding relapse or to make space for a new restoration such as an implant.
Still, many of our older patients find themselves hesitant to go through the teeth-correcting process, mainly due to the idea that they'll have to wear braces for a prolonged period of time. Fortunately, there are plenty of treatment options available that can minimize the appearance of appliances and better fit an adult lifestyle.
These options include:
Ceramic braces: 3M Clarity ADVANCED Ceramic Braces are made from a translucent ceramic material that blends with the color of your teeth. For those with mouths that need advanced work, these are a great, nearly invisible option.
Invisalign: Invisalign gives adults the option to straighten their teeth through a series of custom-made, clear, removable aligners. They are a great esthetic option and allow for an easier time brushing and flossing since they are removable.
Lingual braces: Lingual braces stay hidden behind the teeth and are almost 100 percent invisible when you smile. They are a great option for adults looking for limited treatment to correct crowding in their bottom teeth.
If you think you might need braces, please contact us at Caroline Albea Orthodontics to schedule a consultation. We'll have those teeth looking perfect in no time.
Caroline Albea Orthodontics
5450 Boylston Hwy
Mills River, NC 28759
P. 828-595-9962
H. W & F 7:30am - 4:30pm
Th 9:30am - 6:30pm
Caroline Albea Orthodontics provides braces and ceramic braces for teeth straightening for children, teens and adults. We serve patients from throughout the region including Mills River, Asheville, Hendersonville, Fletcher, Etowah, Pisgah Forest, Brevard, Avery's Creek, and Arden, NC.